Oyster Reefs One Of Many Experimental Methods To Combat Land Loss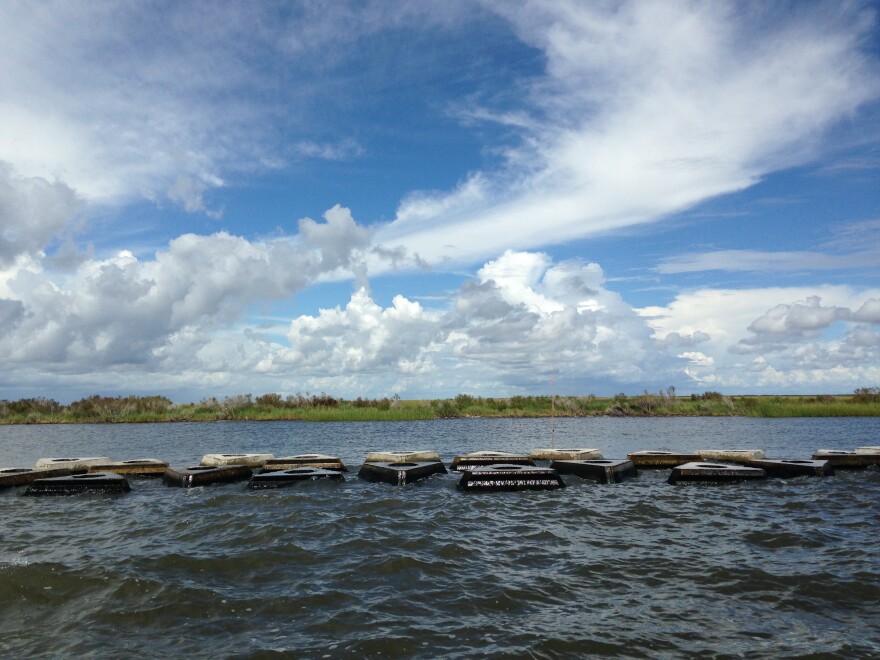 The state is working hard to protect its' disappearing coast - officials have come up with all sorts of solutions, from planting marshes to building levees. Some of these techniques are tried and tested - we know what happens when we build a levee. But in the state's haste to do everything it can to save the coast, some of its approaches are a little more experimental.
St. Bernard Parish President Guy McInnis stands in a small boat and looks out at Biloxi Marsh, just south of Lake Borgne. He grew up fishing out here. "We caught the same fish as we're catching now, I just remember there being a whole lot more vegetation," says McInnis.
Today he's feeling hopeful. State officials have chosen this spot in his parish for a new restoration project. They're dropping in big stacks of cement circles, about the size of tires, along the marshy shore. He says, "For us it represents our protection and the restoration of our heritage." He means oysters. It's the biggest industry in the parish.
The plan is that the cement blocks that line seven miles of the marsh will soon be covered in oysters, which will grow hard, rocky reefs, and protect the marsh from storm surge.
Executive director of the Coastal Protection and Restoration Authority, Michael Ellis, says they want to do two things, "Reduce the energy of the wave hitting the face of the shoreline – and secondly, we're looking at the benefit of aquatic growth. We want it to revert back to nature."
The idea is that the oyster larvae will float over from natural beds on the other side of the bay and attach to the stacks of cement and grow. They have run some experiments with the artificial reefs in other parts of the state but they can't predict how many oysters will live on them or for how many years they'll last.
McInnis is convinced he's seeing results already. It's high tide, so the waves are big, and they break as they crash into the barrier - instead of ripping the fragile dirt and mud away. "This makes me feel better. It's significant. You can see it," he says.
Not so fast, says Earl Melancon. He's is a biology professor at Nicholls State University and he studies oysters. He says the reefs work, but only to an extent. "They can slow the process of erosion down, but we haven't found anything in our studies….where you actually stop erosion," says Melancon.
He ran a small experiment in Terrebonne Bay, where the oysters did great for a few years before suddenly dying. He says the cement blocks fell apart because they weren't built strong enough to support the reefs and there's still a lot we don't know about the artificial reefs.
It's one of many experimental projects along the coast, like floating marshes and artificial rock shorelines. These are part of a long list of coastal projects deemed in the "demonstration phase," and public officials are eager to see positive results.
People like McInnis, who has seen so much of his parish disappear over the years. "The models show significant damage to this if we do nothing. So that's why it's so urgent to start now so we can lose less of it over the long-term," he says.
Seven miles of oyster reef have already been installed. Federal money from offshore lease sales paid for the $12 million project. Now the state plans to spend another $60 million building 11 more miles.
Melancon says in the state's haste to throw everything it's got at combatting land loss, there's a chance that sometimes, projects won't work out. "There's a tendency, not only in Louisiana, but across our country, to look at processes like this and projects like this and fund them and sometimes fund them quite well for a few years, call it a success and then move on to the next project."
He says we need long-term assessments of how projects like this will work out. But the way the state sees it, if there's one thing we don't have, it's time.
Support for WWNO's Coastal Desk comes from the Greater New Orleans Foundation, the Coypu Foundation, and the Walton Family Foundation.