Southwest Louisiana residents grapple with pollution, clean energy during DOE's Lake Charles visit
While some streets in Lake Charles, Louisiana have recovered after back-to-back hurricanes in 2020, many still look like the storms blew through the day before — covered in blue tarps. But for local advocate Roishetta Ozane, the area's problems date back long before Hurricanes Laura and Delta.
"You're in an area where there are very few resources. You didn't pass by any grocery stores," she told a delegation of federal officials who visited the city on Wednesday.
Now, she says the Biden administration has given them an opportunity to remedy those needs as trillions of dollars from the Bipartisan Infrastructure Law and the Inflation Reduction Act funnel into disadvantaged communities like Lake Charles.
But residents like Ozane say the federal agencies need to ensure that money goes to the area's most vulnerable residents, who say they haven't seen the same level of local investments.
"We just have to make sure, as a community and as a city, that things that come here to this entire city of Lake Charles aren't just biased and going to one portion of the city," Ozane said.
Her remarks kicked off the Department of Energy's latest stop on its national campaign known as the "Energy Justice to the People Roadshow," led by Office of Economic Impact and Diversity Director Shalanda Baker. The DOE staff was joined by officials from the Environmental Protection Agency and the Department of Housing and Urban Development.
The tour aims to engage with communities that have historically depended on the fossil fuel industry like Lake Charles, which is part of the state's second-largest hotspot for toxic air, and share ways to tap into the outpouring of federal money.
"We wanted to pick places that were emblematic, that were reflective of the darkest side of the industry, but also where we wanted to bring light," Baker said. "We wanted to send the message that as we bring new investments into these communities, we don't wanna replicate the systems and the problems of the past."
During several community listening sessions throughout the day, residents voiced their long-standing concerns over the quality of their air and water amid ongoing industrial pollution. Several pointed to the nearby community of Mossville as an example.
Once a thriving Black community, resident Christine Bennett said the influx of industrial plants and unequal buyouts turned Mossville into "a ghost town" as more people fled the pollution — leaving those who couldn't afford to move behind.
"We've been in this fight for 40-something years," Bennett said. "Dreams for my children is gone now. Our land is contaminated. Dioxin is in the ground."
They also noted the lack of an operational emergency alert system despite living in a corridor for chemical manufacturing, oil refining and liquefied natural gas terminals. Some expressed their concern over the potential for the emerging carbon capture industry to enter the area.
The meeting came after months of back-to-back industrial accidents in the area resulting in shelter-in-place orders and evacuations. A tank at Calcasieu Refining, alocal oil refinery, caught fire a week and a half before the visit to Lake Charles, resulting in a mandatory evacuation. A week before that, a liquefied natural gas tank at a local substation caught fire, knocking out power for residents living just 30 miles south of Lake Charles.
"We can't go two months without some kind of explosion or the emergency alert system doesn't work, or there's a fire, there's a chlorine release, there's a ethylene dichloride explosion," said James Hiatt, a Lake Charles resident and founder of For a Better Bayou. "No, we can do better, and we have to do better."
Federal officials from all three agencies were joined by local and state staff to lead several presentations on money available for residents through grants or tax rebates to electrify their home appliances or weatherize their houses to lower energy bills.
They also discussed opportunities to encourage solar development and propose "community-driven clean energy projects" in rural areas. Staff also emphasized that every proposal that comes through their office must include a robust "community benefits plan" to ensure the projects have community buy-in and send economic benefits to the local community.
Residents also received resources detailing how to submit applications for various programs and project proposals. EPA Region 6 Administrator Earthea Nance told residents to reach out to the region's technical assistance centers — one sits at New Orleans' Deep South Center for Environmental Justice.
"Communities don't lack capacity for entrepreneurship or ideas. They lack access to money for building and implementing those ideas," Nance said.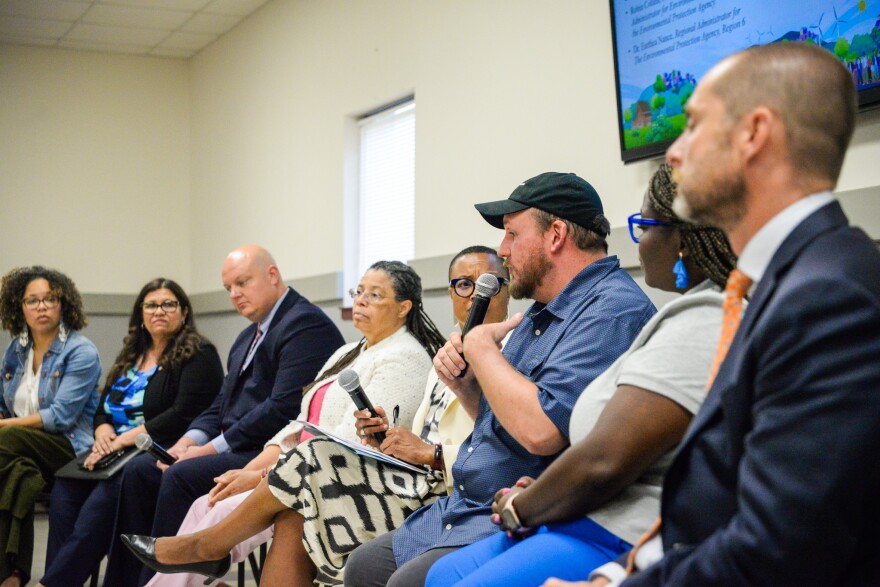 The group stopped in Port Arthur, Texas the day before with DOE Secretary Jennifer Granholm, who didn't attend the Louisiana visit.
Advocates Hiatt and Ozane left feeling that the meeting was a good first step toward sending money into the community, though recent visits by other federal agencies have left some residents bruised.
"I feel like the tour was just a step towards justice and the eyes that we need here on southwest Louisiana," Ozane said after the meeting. "But I just don't think it was enough. I think that the way that we'll be able to measure the success of this will be in what is done after today is over."
Last September, the Federal Energy Regulatory Commission — the agency charged with regulating all energy infrastructure — visited Calcasieu and Cameron parishes in response to concerns over the ongoing buildout of massive liquefied natural gas export terminals.
Earlier this year, the body approved the construction of the Tellurian's $1.4 billion Driftwood LNG LLC's gas pipeline project through Calcasieu to supply its planned export facility — one of 27 projects operating or proposed for the Gulf coast.
EDITOR'S NOTE: This story has been updated to reflect that the fire occurred at an LNG tank at the Jeff Davis Electric Fulton substation, not Cameron LNG.