The Most Exciting Spot To Watch Mardi Gras Parades? Before They Begin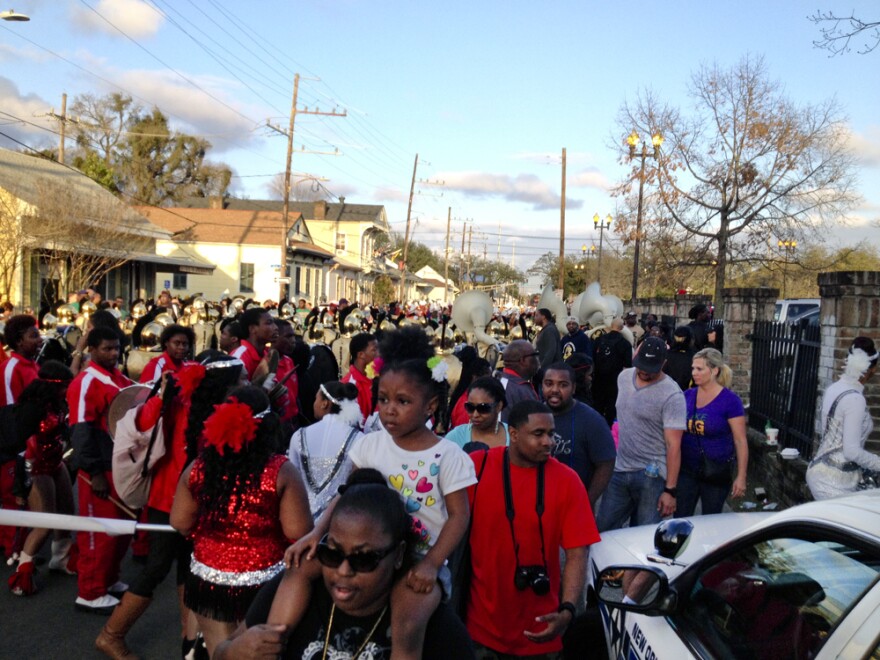 Record-breaking crowds have flocked to New Orleans for this year's Mardi Gras celebration. It's an all-consuming holiday that wouldn't be quite complete without returning from a parade with a neck draped in beads. However, many people say it's the bands that march in the parades that they enjoy most.
Scores of school kids in each band train all year to march in the parades, in front of monstrous floats pitching beads to tens of thousands of screaming Carnival revelers. Krewes are required by law to maintain a minimum number of bands in each parade — though some parades, especially the "super-krewes", parade with many more.
Carnival parades in Uptown New Orleans traditionally stage on the corner of Tchoupitoulas Street and Napoleon Avenue (though many parades now begin on Tchoupitoulas and Jefferson). It's here that tuba players and cheerleaders, drum majors and flag carriers, disgorge from idling school buses and prepare for the performance ahead.
Bands spill down the street and fill the Rouses Supermarket parking lot, where the kids warm up, tune up, and perhaps mend a few injuries — some school bands march in five, or more, parades each Carnival season.
The Roots of Music, practicing before the Bacchus parade:
http://youtu.be/jSxgI2-ghcA
Perhaps most excitingly, the bands will "battle" one-another with their best songs as they wait their turn to enter the parade lineup. In New Orleans being a member of a school band, and especially a drum major, is a point of pride — often more so than becoming the football quarterback, or other traditional high school status attainments.
The area is also a rare opportunity to see the bands perform as a whole, rather than spread out along the parade route.
Warren Easton gets going:
http://youtu.be/zoK5MwiVvxY