Here's How New Orleans-Area Kids Did On Their Latest Standardized Tests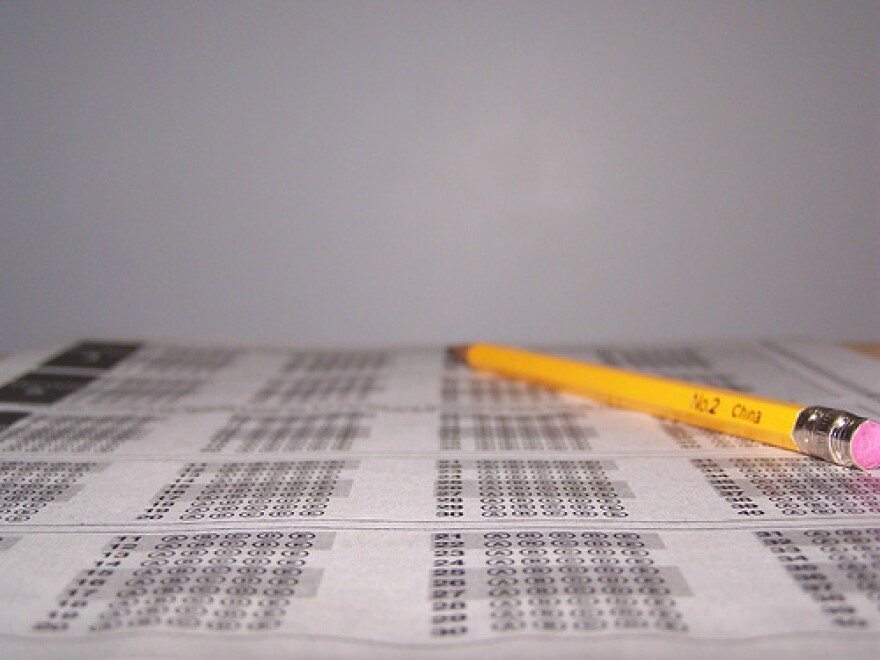 On average, kids in Louisiana public schools tested slightly better on their standardized tests this year. But New Orleans-area kids still trail behind the state, and achievment gaps for certain groups of students remain persistent.
This year kids were tested in math, social studies and English language arts (ELA). The state raised the bar this year for what it means to be on grade level - students now have to score at the "mastery" level to meet the standard.
Statewide, students tested the best in English language arts, with 43 percent of students meeting the new higher standard. In math, about a third met the mark. In social studies, just over a quarter of students mastered the content. Overall scores are slightly higher than 2017 - an increase of 1 percentage point.
State Superintendent John White says schools are making steady, incremental progress.
"We've taken steps forward," White said in a media conference call. "However, we still have bigger steps to take forward and need to insist on greater progress, especially for those students who have the greatest challenges."
White noted that scores are much lower for some groups of students, including students from low-income families, African-American students, students learning English and those with disabilities.
In Orleans Parish schools, which includes both schools run by the Recovery School District and the Orleans Parish School Board, schools saw a slight decrease in the percentage of students testing at mastery in both math and English language Arts. In math, less than a quarter of students tested at mastery. The percentage of students scoring mastery in social studies increased, but is still just 21 percent.
"While the results of these two portfolios [RSD and OPSB schools] are not where we want them to be, our newly-unified system now has a baseline to grow from," Orleans Parish Superintendent Henderson Lewis said in an emailed statement. "While there are no easy solutions to these challenges, the Orleans Parish School Board is committed to working with all schools to improve their performance in our unified district."
Meanwhile Jefferson Parish Schools saw a slight boost in mastery in all subjects.
"The results present us with areas of strength and highlight challenges as well," Jefferson Parish Superintendent Cade Brumley said in an emailed statement. "I'm thankful for the hard work of our educators and look forward to supporting them as we make continual improvements in Jefferson."
Orleans Parish schools and Jefferson Parish schools perform below the state average in all subjects.
State department of education officials say they will use the data to inform policy decisions and to create the school performance scores, which will be released in the fall.
Below are links from the Louisiana Department of Education, where you can access the data on your own.
Spring 2018 LEAP 2025 State-LEA-School Achievement Level Summary
Spring 2018 LEAP 2025 State-LEA-School Mastery Summary

Spring 2018 LEAP 2025 State-LEA School Achievement Level Summary
Spring 2018 LEAP 2025 State-LEA Mastery Summary
Spring 2018 LEAP 2025 State-LEA Mastery Subgroup Summary

2017-2018 EOC School Achievement Level Summary