Why The Delta Variant Is So Contagious, And The Fourth Surge Is Different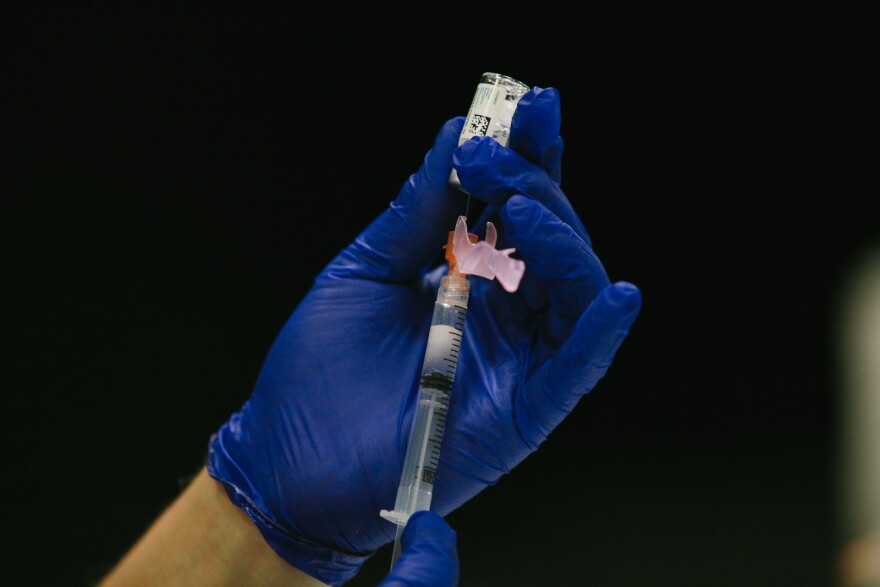 Cases and hospitalizations from COVID-19 are skyrocketing in Louisiana, causing record-high rises that Gov. John Bel Edwards called "scary," driven by the delta variant.
Dr. Joseph Kanter called delta "dangerous and dominant." It accounts for more than 80 percent of COVID-19 cases in Louisiana.
On July 8, when Kanter first warned that the delta variant had become the dominant strain of the coronavirus in Louisiana, hospitalizations sat at 351.
A little over two weeks later, that number has quickly jumped to 1,390.
Susan Hassig, an infectious disease epidemiologist with Tulane University, explains how and why the delta variant poses the pandemic's greatest threat.
What it means that the delta variant is more transmissible than previous strains of the coronavirus
It does appear to interact with the people that it infects differently than the viruses that we have dealt with before. And so what it appears is going on is that the timeframe that we were used to seeing with the original virus, about seven days of time from exposure to development of symptoms, and starting to shed the virus is shorter, some estimates are putting it three to four days, which is has a tremendous impact on transmission, it's going to cycle through people much more quickly.
In addition, what has been found in a number of small studies of people infected with the Delta variant is that they are producing enormously more virus than people with the other variants. And so that means they've got more virus to shed. When they speak, when they talk, when they laugh, there's just more virus there for them to push into the air, and thus potentially expose people to. Some estimates have gone from 100 times to 1000 times more virus particles. So that's a huge difference.
And then it's appearing that people are staying infectious, able to spread the virus for just a little bit longer. So they're starting earlier, having more virus and then lasting perhaps a little longer. And so that's what winds up adding up into then each individual who's infected being able to infect more people, and hence more transmissibility.
Whether the fourth surge will be faster than the three previous surges of COVID-19 in Louisiana
I think in the unvaccinated, and unfortunately here in Louisiana we have a lot of people who are unvaccinated, I think we are going to see very steep rises. The fact that just the other day, we had over 5000 cases being reported. Not all of those had been collected on one day, but a large number of them had been, over 3000 of them had been. That is numbers of cases and infections being identified that we haven't seen for a very long time. And for it to move from just a couple of hundred to those levels over the span of a couple of weeks, we are going to see this climb very quickly, I'm afraid. And we are seeing that kind of almost vertical climb in hospitalizations as well, which is really, really concerning.
Whether the delta variant also makes people sicker
I think that's something that we're still trying to really nail down. But the fact that we are seeing so many people become hospitalized in younger populations is is really unusual.
Remember back before we had the vaccine, a lot of the hospitalizations were in people who were older or had pre-existing conditions like diabetes and hypertension. And now those people are largely vaccinated, so they're not getting sick, and they're not winding up in the hospital.
But the unvaccinated, often younger segments of the population are are showing up sick and showing up sick in large numbers. So I think we're still trying to figure out exactly how much worse clinically but I've certainly heard anecdotally from clinicians that they feel like it's worse because people are coming in sicker quicker, is the phrase that they tend to use.
Why we're seeing more "breakthrough" cases
There's a couple of reasons. These vaccines were not tested to prevent infection, they were tested to keep people healthy well and out of the hospital and avoiding death. And they're still doing that to very much the same degree with delta, as far as we can tell from the data available to date.
What is probably happening in terms of vaccinated individuals showing up with infections more now than there might have been a few weeks ago, is associated with the transmissibility of this delta variant. As more viruses circulate, any interaction that a vaccinated person is going to have with the broader community, the broader population, is going to have a higher risk of that interaction being with someone who is infected.
And so the greater likelihood of interacting with the virus means that when that probability of becoming infected plays out over and over and over again, you're going to wind up with vaccinated people showing up with infection. But fortunately, most of those infections don't really go anywhere of concern, a few people have been hospitalized. A few people, unfortunately, have expired. But it is very, very rare.
How it feels to watch a fourth wave of COVID-19 sweep across the state
I am so frustrated, because we have a marvelous tool available to us, the vaccine that makes this surge unnecessary, that would alleviate the threat of hospitalization and the ultimate possibility of death.
We're seeing double-digit deaths every day now in Louisiana. Every one of those is totally unnecessary at this point. And it gets me frustrated to a substantial level. We've gone through this three times already, and now we're doing it yet again.
And making use of the vaccine is the fastest way for us to just put this pandemic behind us and for it not to be as widely accepted and taken up by the population as we have made it available. It is really, really frustrating.