What's The Deal With This Big Saharan Dust Cloud?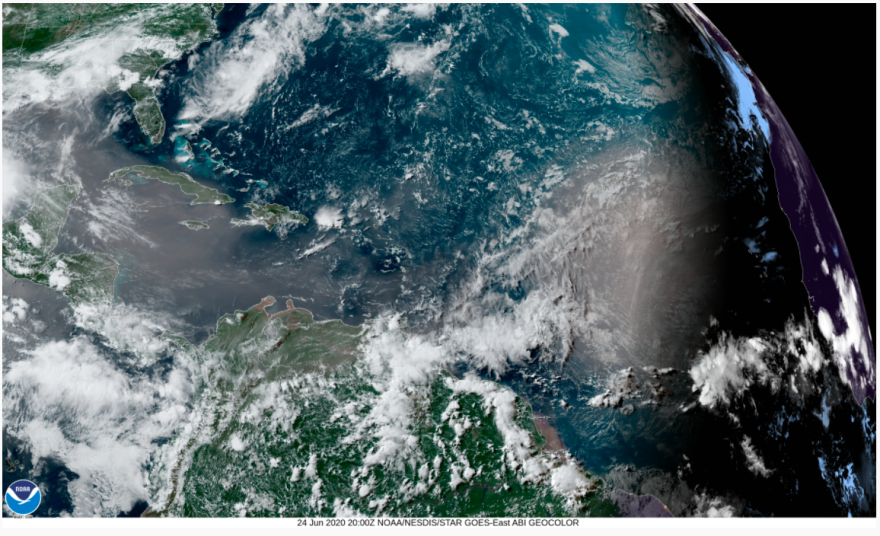 The big Saharan dust cloud headed for the southeastern United States seems a bit much in our current moment, but it's not that unusual.
The giant dust cloud will bring beautiful sunsets and dirty air to southern Louisiana starting today. The plume is made up of dust particles from the Sahara Desert in Africa and is making its way across the Caribbean. NASA scientists say it will reach Louisiana today and linger through the weekend.
Dust storms happen every year, but this one is unusually large.
The dust cloud will become visible in Louisiana this evening, if the rain clouds clear up, and will become thicker Friday and Saturday. The St. Tammany Parish Coroner's office has issued a warning for sensitive groups, saying it's best to stay inside, and wear a mask when outside.
As NOLA.com's Mark Schleifstein reported, the dust will likely create unhealthy conditions for anyone with lung issues and could increase the risk of getting COVID-19.
Update: As of 9 a.m. Thursday, Lake Charles, Louisiana, has the highest air quality index value in the country — though cities in California are forecasted to far surpass it today. The AQI is 114, according to the EPA, a value considered unhealthy for sensitive groups. Most of southern Louisiana has an AQI in the moderate range this morning, and the air quality in the northern third of the state is good. The AQI is forecasted to improve throughout the day and into Friday.
A press release from the city of New Orleans says the city is monitoring the situation.
"Anyone with respiratory issues or vulnerable to poor air quality should pay very close attention to advisories and take health precautions that can help minimize the effects from this dust storm," Dr. Jennifer Avegno said in the statemenmt.
The release advises that everyone monitor the level of air particles in your area, avoid outdoor activity, cover your nose and mouth with a mask/face covering outdoors, avoid vigorous exercise, stay indoors with windows and doors closed, and stay in air conditioning if possible.
Support for the Coastal Desk comes from the Greater New Orleans Foundation and the Walton Family Foundation.