Louisiana Schools Get New Report Cards, And The Curve Is Over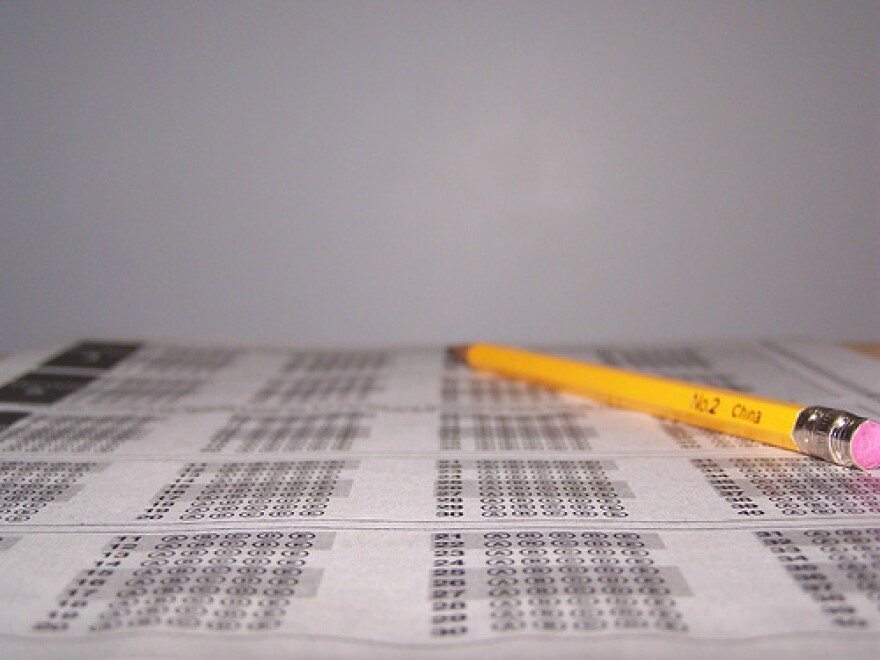 Louisiana public schools got an overall B on the Louisiana Department of Education's new, tougher school grading system. Meanwhile, in the New Orleans area, Orleans Parish public schools and Jefferson Parish public schools each earned an overall C.
[Click here to find your school's letter grade.]
The Curve Is Over
The school grading system is different this year, and essentially, harder. School letter grades are mostly based on how many students tested at grade level during end-of-year testing. The more students who score at grade level, the higher the letter grade. Last year, students had to score at "proficient" to be considered on grade level. This year, students had to score at the higher "mastery" level to be considered on grade level. Basically they had to get more questions right this year. The state is describing it as ending a curve.
Progress Counts
This year, in addition to the tougher standard, the state is also taking into account student progress. This is a measure of whether students are learning at the rate that we expect them to. Say you have a school where a bunch of students show up on Day One really behind, and there's no way they're going to test on grade level by the end of the year. The school still gets points for moving those students along. The school also gets a second, sub-letter grade based on its progress, called the Progress Index Score. Progress counts for 25 percent of the school letter grade in elementary, middle and high schools. High school scores also take into account graduation rates, and whether students are earning advanced credentials, like Advanced Placement credits, or Associate Degrees.
In Orleans Parish
Overall the district got a C letter grade, with a corresponding school performance score of 66.2. In Orleans, a larger share of schools are in the D and F range than what you see statewide. Statewide, a quarter of schools are D or F, while in Orleans Parish, more than 40 percent of schools are rated D or F this year. Half are B or C, and just a handful are rated A.
In a statement from Orleans Parish School Board spokeswoman Dominique Ellis, the distict highlighted its progress index scores - the individual scores schools get based soley on student progress. According to the district, nearly 80 percent of schools received a progress index score of A or B for the 2017- 2018 school year.
"This year's School Performance Scores, particularly the newer Progress Index Score, reflect the hard work of our teachers and students in Orleans Parish. Progress is being made and we need to continue building from that foundation," Orleans Parish School Board Superintendent of Schools Dr. Henderson Lewis, Jr. wrote in a statement.
When you look at Orleans Parish schools with the curve, they show an overall improvement from 2017. The district still would have earned a C in 2018 under the old grading system, but the corresponding school performance score was higher - moving up to 80.8 in 2018, from 70.6 in 2017.
In Orleans Parish, charter schools that earn Fs can lose the right to operate, especially if the F occurs in the year before the school applies for its charter renewal. Three charter schools up for renewal this year earned Fs - William J. Fischer Accelerated Academy, McDonogh 32 Literacy Charter School, and Medard Nelson Elementary School. The Orleans Parish School Board has already halted enrollment at the three schools.
In Jefferson Parish
Jefferson Parish's school district also got a C, with a corresponding school performance score of 70.6. Almost half of schools were rated at a C.
Jefferson Parish also made progress year to year. Under the old grading system, the district would have earned a B in 2018, up from a C in 2017.
"The results highlight what we already knew," Superintendent Cade Brumley wrote in an emailed statement.
"We have schools and programs doing well, and we have others that need drastic improvement. This year, we embarked on key reforms, supporting our leaders and teachers in getting stronger outcomes for students. We will improve by implementing best practices in education," he wrote.
If you really want to nerd out, below are links to all the 2017-2018 school performance score data.
Access the 2017-2018 state-level performance summary.
Access the 2017-2018 district-level performance summary.
Access the 2017-2018 school-level performance summary.