New Orleans Public Schools Will Start The Year Virtually, No In-Person Classes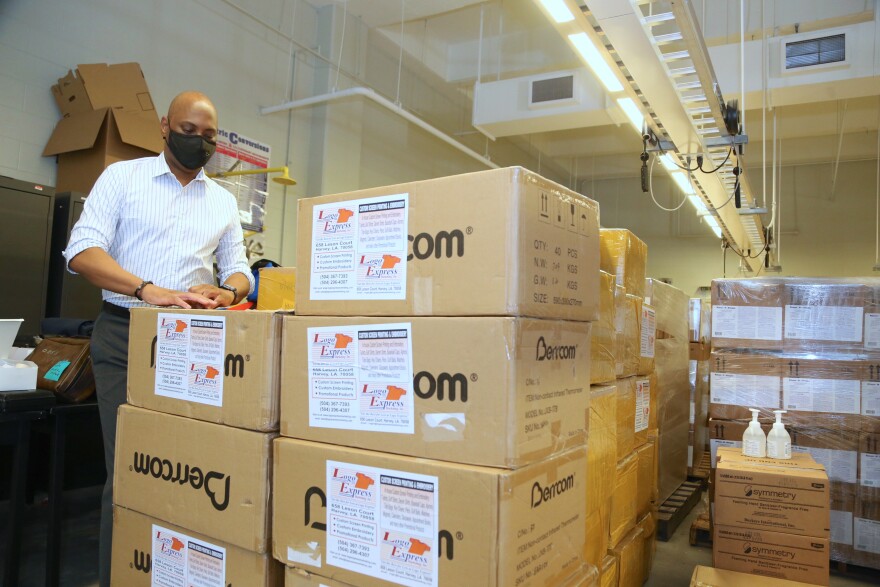 New Orleans public schools will start the school year virtually with the goal of getting students back in the classroom after Labor Day, Superintendent Dr. Henderson Lewis Jr. said at a press conference Tuesday.
"While we still believe it is critical to return students to the classroom, the data is going in the wrong direction," Lewis said. "We have made the difficult decision to begin school under a distance learning model in August."
School and city officials will reassess health data in late August to determine whether students can return to school in early September, Lewis said.
In recent weeks, the number of coronavirus cases has been on the rise, both in the state and in New Orleans. The trend has continued even as the state and city have tightened Phase 2 restrictions.
While research has shown that children are unlikely to experience severe illness if they contract the coronavirus, they can serve as carriers. Avegno said they've seen "many children test positive alongside all the other members of their household."
Given the current rate of transmission, New Orleans Health Department Director Dr. Jennifer Avegno said "bringing children, teachers, staff, administrators together in the classroom could be disastrous for our schools, our families, our communities and our health care system."
She said that while hospitals are "holding strong," any significant increase in cases locally or statewide could potentially "overwhelm the system."
Avegno brought up the idea of COVID-19 testing in schools as a way to protect against the spread of the virus, but said that right now there aren't enough tests available to regularly test children, teachers, administrators and staff in a way that would "make us feel really comfortable."
"There is not a lot of precedent for these decisions," Avegno said. "We don't have any examples of countries or other places that have successfully opened and kept open schools with this level of community spread."
Students are required to learn remotely, but schools will be open to provide "critical" services. Teachers are expected to work from their classrooms, school meals will be available for pick-up, and in select cases, students with special needs may visit the building to receive one-on-one services.
The district plans to release additional guidance on how schools should handle operations while teachers are in the building and students are at home.
While teachers will be expected to follow many of the health and safety standards outlined in the district's Roadmap to Reopening — which outlines the district's plan to return students to school — some policies, like mandatory masks, won't always be necessary, given the limited number of people in the building.
Chief Operations Officer Tiffany Delcour said teachers can expect to follow office-building-like guidelines and that if a teacher is alone in their classroom they won't be required to wear a mask.
"This is probably the most difficult decision, but yet not so difficult considering the existing conditions in our city," Mayor LaToya Cantrell said. "It will have a cascading effect on our city because our children will not be able to attend school."
The decision to keep students at home will cause considerable challenges for many parents, particularly those who are also teachers. Lewis said they're expected to work with their individual schools to come up with childcare solutions.
NOLA-PS originally planned to reopen schools for in-person learning next month, welcoming younger students back full-time and older students back part-time.
Parents, teachers and other community members actively challenged NOLA-PS's plan to reopen schools since the guidance was first released in early July.
Last week, teachers at two New Orleans charter schools formally called for a virtual start to the school year, and yesterday, Black and Brown parents gathered to do the same.
Other states have also backed away from in-person learning despite pressure from the federal government to reopen schools. In recent days, school districts in California and parts of Texas decided that it's not safe to hold in-person classes when schools reopen in August.
Louisiana is still encouraging schools to reopen. Last week, the state's top school board approved minimum safety standards for the reopening of public schools — including face mask requirements for students and adults, social distancing policies, daily hygiene practices, and limits on indoor gatherings and bus capacity.