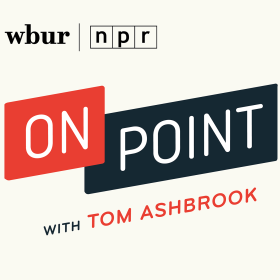 Weekdays at 9 a.m.
Hear provocative voices and passionate discussion as Tom confronts the stories that are at the center of what is important in the world today. Leaving no perspective unchallenged, On Point digs past the surface and into the core of a subject, exposing each of its real world implications.
Nike attracted the world's best. Alberto Salazar was a Nike-funded coach for almost 20 years. That ended in scandal. Is a reckoning for professional runners upon us?

Malaria has shaped human history. Could that story now be coming to a hopeful end?

People. Don't. Listen. "There's so much in our society that is encouraging us not to listen," Kate Murphy says. What is good listening and can it make a difference?

School boards are a new nexus of America's culture wars. Some say the targeting of school boards is a political tactic used by right-wing organizations. We hear that deeper story.

What determines your happiness? We'll talk about why science says, even with every problem in the world right now, you deserve to be happy.

New Zealand was aiming for 'COVID zero.' What does New Zealand's changing strategy tell us about what the pandemic's end should look like?

For decades, scholar Randall Kennedy has been writing about race, culture and the law. "We are certainly much further from the racial promised land than I had thought that we were," he says.

A former Facebook employee says the social media giant knows it is tearing society apart. Will Facebook face its Big Tobacco moment?

The price tag for the Democrats' social spending bill may be shrinking – but the needs of Americans are not. We hear what stays in the bill, what goes and what it all means for Americans who need help.

The brain, behavior and authoritarianism. Understanding the social and neurological forces that drive people to turn their backs on democracy.