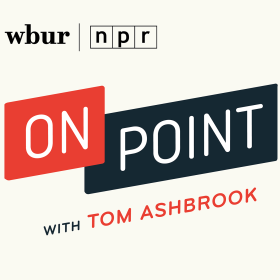 Weekdays at 9 a.m.
Hear provocative voices and passionate discussion as Tom confronts the stories that are at the center of what is important in the world today. Leaving no perspective unchallenged, On Point digs past the surface and into the core of a subject, exposing each of its real world implications.
Maren Costa worked at Amazon for 15 years. That abruptly ended last spring when she spoke out about the company's climate impact. We take a look at how Amazon treats its workforce.

Ardine Williams is Amazon's vice president of workforce development. In this web exclusive, she speaks with Meghna Chakrabarti about the company's labor force and culture.

In this web exclusive, Gilman Louie joins Meghna Chakrabarti for an extended interview about AI warfare and its ethical challenges.

The world's superpowers are building new super-fast, super-lethal armies powered by artificial intelligence. AI warfare and its implications.

John Jones was just 7 years old when he was forced to attend the Alberni Residential School in Canada. Stories from survivors of Canada's residential schools.

Last summer, Portland erupted in protest. How has the city changed a year later?

Sean Fruit and his wife got their vaccinations, stopped wearing masks and drove to Vegas. They caught COVID. Breakthrough cases and what they mean for the ongoing pandemic.

A recent Gallup poll found that fewer than half of Americans belong to a house of worship. But while Americans might be losing their religion, they are not losing their religious fervor. What's filling the God gap?

A mathematician turns gender into a math problem.

The western U.S. is no stranger to drought. But this isn't any dry spell. More than 70% of the West is exceptionally parched. Could it be a permanent change?