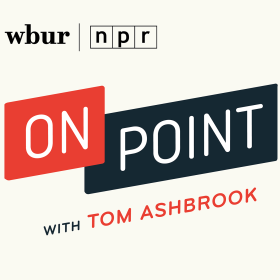 Weekdays at 9 a.m.
Hear provocative voices and passionate discussion as Tom confronts the stories that are at the center of what is important in the world today. Leaving no perspective unchallenged, On Point digs past the surface and into the core of a subject, exposing each of its real world implications.
It's estimated that more than 60,000 people live on the streets and in the parks of Los Angeles. Or put another way – 20% of all unhoused Americans – are in LA. Can the city find a way to house everyone who calls LA home?

Following the mass shooting of 19 elementary school children in Uvalde, Texas yesterday, we ask what will it take for us to find the political will to prevent these kind of events from being a uniquely American experience.

Since the start of the war, we've listened to voices from Ukraine. As the war grinds on, how do Ukrainians see things?

On May 13, the Day of AI, we brought together a panel of experts to talk about the future of AI and robots. This is the first installment of our series Remarkable Science -- featuring conversations with scientists about their discoveries, recorded in front of an audience at CitySpace.

Great replacement theory -- the erroneous belief that there's an effort underway to 'replace native-born Americans with immigrants for electoral gains.' That fear has moved from the fringes to the mainstream. As many as one in three Americans say they believe it.

Starting Friday, May 27th, On Point presents a four-part series: 'Smarter health: Artificial intelligence and the future of American health care.'

The national baby formula shortage. The reason? Corporate monopolies, poor quality control and federal regulation.

In an archive edition of On Point: As American conservatives meet for their conference in Budapest, we'll learn more about why they're gathering to hear Viktor Orban.

Journalist Putsata Reang has reported on many wars. Her own life is defined by the war her family escaped. "What did I owe my mother for giving me life?" The question gripped Reang when she decided to tell her mother that she's gay.

If you consult three doctors and get three different opinions, that's an example of what Nobel Prize-winning psychologist Daniel Kahneman and his colleagues call "noise." How do you decide what to do when professionals don't agree? We'll cut through the noise and exploring human judgment.